J.M. Tree Service prides themselves on a quality job, done at a fair price. J.M. Tree Service is fully insured with both workman's Compensation and Liability insurance.
We have FOUR I.S.A. Certified Arborists on staff who evaluate every job. J.M. Tree Service has been in business for over 15 years and has maintained our clients with respect and fairness. Located in the Greater Rochester area, with service to Monroe County and surrounding towns, including locations such as Canandaigua and Farmington. We have the equipment and experience necessary to not only get the job done right the first time, but in a professional and affordable manner.
We specialize in tree removal, trimming and stump grinding. We also specialize in crane assisted tree removals.  Joshua Miesch is NYS crane licensed and a CIC Certified Crane Operator #JR-22887. We use top-of-the-line pro-grade equipment.
No matter what the job calls for, call J.M. Tree Service at (585) 766-5674, to get it done RIGHT. With hundreds of satisfied customers around the area, we have what it takes.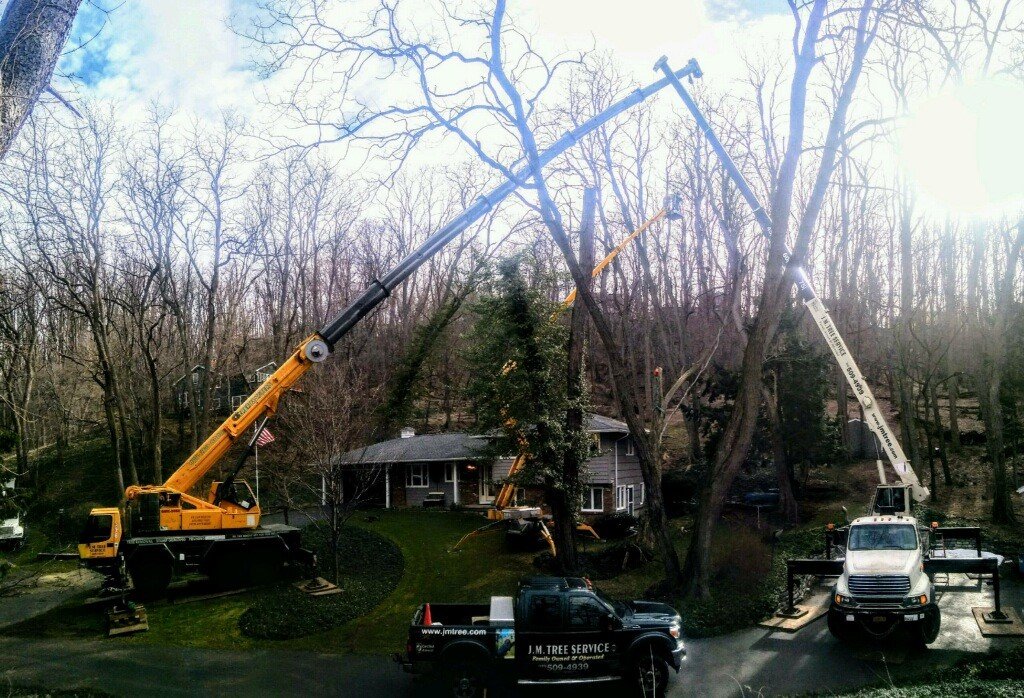 A note to thank you and your crew for a splendid job in my yard. Your boys worked hard and cleaned up beautifully! The boys were also very respectful which was much appreciated. Thanks again for a great job.
Dear Josh,

I wanted to write and tell you how pleased we are with the work your tree crew did on our property earlier this month. The work was done quickly, professionally, and to spec. I was especially pleased with the thorough clean up job at the end. I love the new trees that Nikki chose and look forward to watching them grow.

Thanks again for a great job!!
Sincerely,
Hi Josh,

Just wanted to commend you and your crew for the amazing transformation of the three trees serviced today. What an amazing difference, especially in the "mystery" Butternut tree!! My son and I are beyond pleased with how well shaped and natural everything looks. My main concern was the Butternut tree. Your crew exceeded my expectations on how it would look after the large limbs were removed. Beautiful!!

You have a fantastic crew of hard working guys that are very professional, courteous as well as friendly. Any questions we had were answered with politeness and knowledge. Clean-up was very thorough and very much appreciated.

I would like to have your company return this coming Fall for some limb removal in the back yard.
Thanks again for a fantastic job and we pleased to have your company sign in our front yard.
Good morning, Joshua:

A brief note to thank you for the excellent work on my trees. It has made a remarkable improvement in the appearance of my front yard.The cleanup after the work was done was thorough. My next door neighbor has remarked on the efficiency of your operation.

I would be happy to recommend your company to anyone planning tree modification.

Yours truly,
Josh, Joe, and others…we are very pleased with the outcome of the willow tree pruning done yesterday. The work met all our expectations and the resulting tree shape and branch path over driveway is exactly as was discussed.

Thanks to all for a job well done.

Take care.
Josh, Nikki & all J.M. Tree Service folks,

Thanks from Valerie and myself for the great job you all did last week on Valerie's monster trees and stumps. The yard brightened up well and the dying century-old beauty's at rest. Feel free to use me/us as a reference for future business anytime,

Thanks again,
Take care.
Dear Josh,

I would just like to tell you thank you so very much for all that you did. Your guys were great and very professional. A great job done, and I would highly recommend your company to anyone.

Thank you,

Just a note to let you know I loved the job you did cutting back the overgrown bushes and removing the others. Thank you for your wonderful work and clean up afterward! When it comes to tree services, I have you on speed dial!!
Sharon and Josh,

Just wanted to let you know that my job has been completed. Your crew was very professional, courteous and did a very thorough job of trimming my trees. It was wonderful to work with all of them. I cannot believe how different the boxwood looks now and the amount of airflow coming through it.

Thank you,

I wanted to write and tell you how Thankful I am for helping me out. I was so impressed with the work your crew did. I have and will always recommend your company to my friends and family.

Thanks again for an awesome job!!
Hi Joshua,

Thanks for doing a great job on the trees! They look much better, no lawn gouges and a meticulous clean up…doesn't get much better than that in my book. Our neat freak corner tends to attract alot of attention, so I hope you get some business from the sign and we will happily refer anyone we chat with looking for tree work. Maybe I'll call you to light them up for Christmas…I've wanted to do that for years!

Thanks again,

Thank you for your awesome work on our complicated locust tree removal. We were very impressed with the whole operation- very professional and organized, wow! And my kids loved watching you guys work, they couldn't believe we had a crane in our driveway!

Great job 🙂
Hello Josh!

You did such a great job! I am at my parent's house as of Wednesday evening. I thought I'd send you some photos for your collection. Thank you! I'll send more to follow these.

Thanks again!